Hope Christian Center Οf Marousi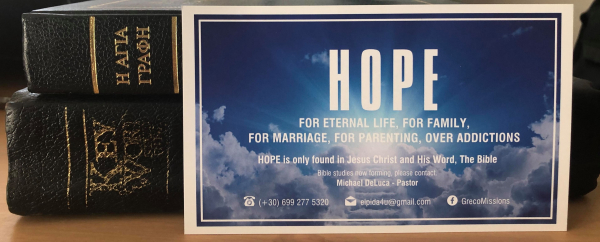 ABOUT
Hope Christian Center is a registered Greek non-profit group dedicated to building community and Christian values through the teaching and preaching of God's Word as found in the Bible alone. Michael DeLuca (BA- Theology; MA- Communications; Bridge TEFL certified), is an ordained Baptist pastor with many years of ministry experience. He and his wife, Joanna, have served the Greek communities of Zákynthos and Athens for over 5 years.

Hope Christian Center offers weekly Bible studies, Bible-based Christian counseling, and English instruction. We also offer personalized, deeper Bible studies (discipleship) designed to help people understand and apply God's Word to their lives. Our newly renovated facility is warm, comfortable, and equipped with modern audio/visual technology to provide the perfect environment to study God's Word in order to develop and strengthen your relationship with the Lord Jesus Christ. All our services are free of charge.

There is hope... and it is found in Jesus and His Word! Please contact us today to learn more.
CONTACT INFO
Title:

Hope Christian Center Οf Marousi

Telephone:

6992775320

Email:

elpida4u@gmail.com

Post Code:

15124